Project Overview
Updated 11/22/22
As many of you know, the NC Department of Transportation (NCDOT) has long planned to add a new bridge, the Rodanthe bridge, to bypass the infamous Highway 12 S-turns and improve access to Hatteras Island. The power delivered to Hatteras and Ocracoke Islands is exclusively provided by the transmission line that runs parallel to the existing highway. NCDOT has now completed the bridge and it opened to traffic in July 2022.
Since December of 2021, CHEC has been working to install our transmission line under the new bridge. CHEC has awarded a contract to New River Electrical to complete the job of installing the hanger, conduit, and cables under the bridge. As of October 2022, all on-bridge work has been completed and cable testing was completed successfully. We will work to energize the new cables in late November or early December, as this work is weather and load dependent.  
This website will be updated frequently with photos, press releases, timeline updates and anything else that we need to communicate about the project. You can also follow our Facebook, Twitter and Instagram for project updates and photos.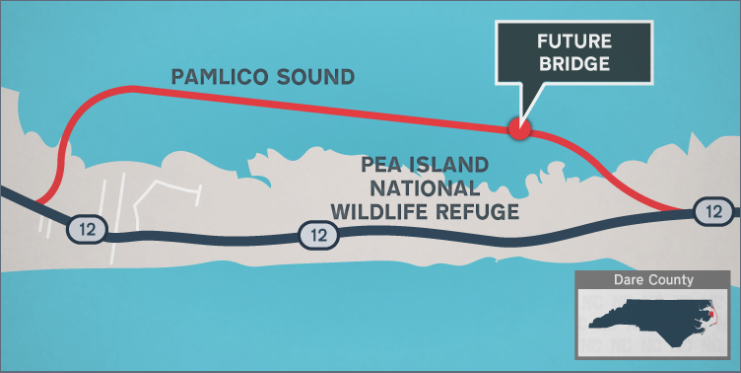 Cable Installation Timeline
December 2021: Conduit & hanger installation begins.
New River Electrical's subcontractor, Aptus, will work to install the conduit & hanger system underneath the bridge. This work will continue until May 2022.
June 2022: Work begins on north and south transitions
Contractors will work to install equipment necessary at the north and south ends of the bridge.
July 28, 2022: NCDOT opens bridge to traffic.
Now that NCDOT has shifted traffic onto the new bridge, our work will continue, requiring minor traffic delays during daylight hours, Monday mornings through Friday afternoons
July 2022: Cable Installation Begins
New River Electrical will begin installation of the new 115kV cable.
September 2022 Cable installation complete.
Crews complete the cable installation and required splicing.
November - December 2022: New cable is energized.
Crew will energize the new cable by the end of 2022. This work will be dependent on the electrical load of the islands. CHEC will communicate any planned outages that may be required for this final task.
Latest Press
Updated 10/10/22
Frequently Asked Questions
Why is this project necessary?
Put simply, we need to keep the lights on. If we do not move the transmission line to the new bridge, power will eventually be disrupted as our existing overhead line will be exposed to Hatteras Island's extreme coastal environment and inaccessible to CHEC as NCDOT removes the asphalt, dunes and sandbags that are currently in place. Our cooperative is dedicated to providing reliable electric service in the face of these perpetual challenges, and this project is just one example of how we do so.
When does it start?
Contract crews have already begun work to install the hanger and conduit system under the bridge. The conduit and hanger installation is expected to be complete by the end of May 2022 and CHEC will take delivery of the new cable in July 2022. We expect the cable to be installed by the end of September 2022 and energized after that.
What effect will this work have on traffic to and from the island?
You should expect minor delays traveling to and from the island starting when NCDOT opens the new bridge to traffic, currently slated for June 2022. These minor delays will run through the end of September, when the cable installation is expected to be finished.
What hours and days will traffic be affected?
Crews will work during daylight hours, between 7a.m. and 7p.m., Mondays through Thursdays. On Fridays, the work will run from 7a.m. to mid-afternoon. No work will be done between Friday afternoon and 7a.m. on Mondays.
What kind of traffic delays should I expect?
Because only one line of traffic can flow at a time, please anticipate a delay of 5 - 10 minutes as you traverse the bridge to and from the island. Traffic will be controlled by the construction team we have hired to move the transmission line. Of course, we'll work with them to help ensure delays are kept to a reasonable limit. 
Why can't the work be done at night?
It is too dangerous. Although it would be more convenient for residents and visitors if the work could take place after sunset, there are too many hazards when working to install transmission equipment on a bridge over open water at night.
How can we stay updated on the project?
We will update this page regularly with the latest information about the project and any impacts to our members. Additionally, you can follow us on Twitter and Facebook for updates. Photos of the project will also be shared on our Instagram.
Project Contacts
Laura Ertle
Director of Public Relations & Marketing
(252)995-7083
Susan Flythe
EVP & General Manager
(252)995-5616
Project Photos